Children from 0 to 5 years stay FREE in the beds behind closed doors. Children aged 6 years and above are considered adults at this property.
Welcome to the official website of the HOTEL CHOPIN
just 10 minutes from Fiumicino airport
The Chopin hotel is a 3-star hotel very close to Fiumicino (Leonardo da Vinci) airport and just 20 km from the center of Rome. The hotel has two separate structures with newly renovated rooms equipped with the best comforts. The rich and old-time atmosphere recalls the ancient Baroque era, the furnishings and memorabilia on display have always been one of the special features of the hotel.
The main building houses a restaurant, the breakfast room with two precious vintage cars, a museum and a small theater where important performances are held. In the separate building, just 2 minutes from the main structure, in addition to the rooms, you will be able to immediately access the swimming pool, the hot tub and enjoy the tranquility of the place. Our staff speaks the following languages fluently: Italian, English, Spanish, French, Russian, Romanian and Polish.
Choose the room that best suits your needs
STANDARD rooms are located in the internal structure of the hotel, near the restaurant, the reception and the room where breakfast is served.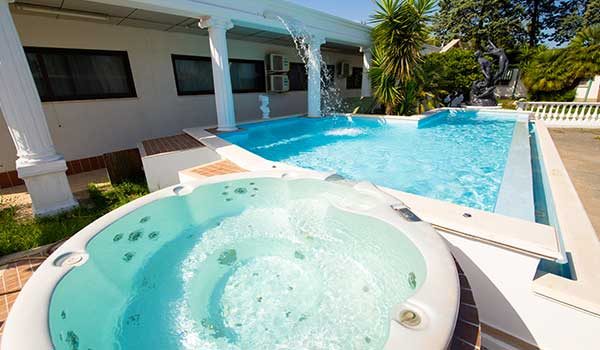 The ECONOMY rooms are located in an external building just 100 m from the property and are adjacent to the swimming pool with Jacuzzi, which can be used by all hotel guests.

Many of our guests appreciated the clarity of the services offered by the Hotel Chopin Rome. Our goal is to make your stay exciting and unforgettable. It is important for us to create relationships of friendship and respect, of pleasant chats and sincere smiles. Our reception staff like to fulfill your wishes and if possible anticipate them. Hotel Chopin Rome is a 3-star hotel surrounded by nature, just 10km from the center, with a lovely swimming pool, where you don't have to wake up at dawn to reach Fiumicino airport, where you don't have the problem of finding a parking space. Check-in: From 3:00 P.M. onwards | Check-out: By 11:00 A.M.
Choose Hotel Chopin for your stay in Rome
The proximity to Fiumicino Airport and the center of Rome make Hotel Chopin the ideal place to spend your stay!